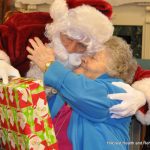 'Be a Santa to a Senior' Program Provides Comfort, Companionship and Cheer to Citrus County Seniors
Be a Santa to a Senior trees will be on display from November 2nd to December 6th
Be a Santa to a Senior trees can be found at the following locations:
Beall's Outlets:

1430 Highway 41 N. Inverness, FL  34450
223 E. Highland Blvd., Inverness, FL  34452
420 N Suncoast Blvd., Crystal River, FL  34429

G & R Pharmacies:

3791 N Lecanto Hwy., Beverly Hills, FL 34465
946 E Norvell Bryant Hwy., Hernando, FL 34442
5691 S Suncoast Blvd., Homosassa, FL 34446

Mellodie's Body Image, 1101 Middle School Dr., Inverness, FL  34450
Michael's Floor Covering, 685 E. Gulf to Lake Hwy., Lecanto, FL  34461
True Value Rental, 3315 E Gulf to Lake Hwy., Inverness, FL 34453
Lakeview Salon, 3822 Parsons Pt, Hernando, FL  34442
Inverness Flea Market, 3600 S Florida Ave, Inverness, FL 34450
Citrus County Library locations:

Central Ridge Public Library
Floral City Public Library
Homosassa Public Library
Lakes Region Library
Coastal Region Library
While many seniors enjoy being able to live independently, the holidays can be a difficult time for those who are unable to spend them with friends or loved ones. In fact, isolated seniors are at greater risk for loneliness, anxiety and depression.
This is why the local Home Instead Senior Care® office serving Citrus County and Lecanto Levi's 4-H Club are inviting the community to come together to bring some comfort and holiday cheer to area seniors through its Be a Santa to a Senior® program, now in its eleventh year.
Providing gifts and companionship at a time when seniors may need it most, the program is made possible through the generous support of area businesses, nonprofit organizations, retailers, numerous volunteers and members of the community. The local Home Instead Senior Care office has partnered with these groups, including Lecanto Levi's 4H Club, to help with gift collection and distribution.
Holiday shoppers are invited to support this local program by visiting a participating location where Be a Santa to a Senior trees will be on display from November 2nd to December 6th. Those trees will be decorated with paper ornaments featuring seniors' first names and their desired gifts. Holiday shoppers can choose an ornament, buy the requested gift and return it to the same location with the ornament attached by December 7th.
There's no need to worry about wrapping. Community volunteers and program partners will wrap and deliver the gifts to local seniors in time for the holidays.  We will have a wrapping party hosted by Citrus County Senior Services located at 2804 W Marc Knighton Court, Lecanto, Fl  34461 on December 10th at 2:00 pm.  If you are interested in volunteering to help us wrap gifts, please RSVP at 352-249-1257.
"We're excited to get started and see the tree ornaments turn into meaningful gifts and interactions that can make a real impact on seniors' quality of life this holiday season," said Quintanilla. "We know there are a variety of gift initiatives out there, and we are so grateful to have our partners and community come together to support this important cause that will bring some much-needed holiday spirit to many of our senior neighbors."
For more information about the program, visit BeaSantatoaSenior.com or call 352-249-1257.