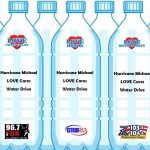 Naturecoast Country and our affiliated stations have partnered with LOVE Cares to help those devastated in the aftermath of Hurricane Michael. With no power and no running water, and temperatures this weekend projected in the mid 80's water is a major part of the recovery effort, not only to the citizens in the panhandle, but the first responders, insurance crews, and lineman as they work hard to get life back to a sustainable level.
With your help Love will collect and deliver water for the areas of the panhandle effected. Pallets, Gallon jugs, and cases of bottled water can be dropped off at Love Chevrolet on Highway 44 West in Inverness, Love Honda and Love Motorsports on US 19 in Homosassa, and at the Fox 967 offices on South Crystal Glen Drive in Lecanto.
Water donations will be accepted any time in the coming weeks during regular business hours. Thank you for your continued support as we work together to assist our fellow Floridians in their time of need.